Last weekend I had the privilege of volunteering at a local farm that grows food exclusively for local food banks. I brought my own tools and checked in with the volunteer coordinator to find out where I could help (i.e. not do any damage). He was happy to see that I had a small hand rake that would be just right to clean out debris in and around some plants and offered up a much larger garden rake to pull the debris over to a larger pile where another volunteer was loading wheelbarrows to take to the compost pile. Two rakes – two very different applications.
This reminded me of the tools that many of us are using in our day-to-day work. Over the last year, the effectiveness of our tools has been critical to our ability to access our workspaces, collaborate with our coworkers, and to feel connected to our teams.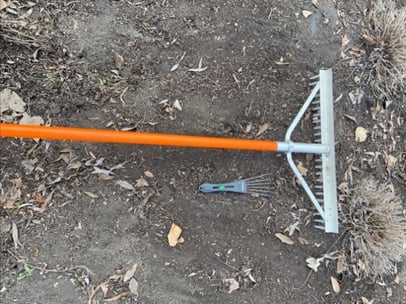 As many of us are thinking ahead to where and how we will be doing our work in the months to come, it may be a good time to evaluate the effectiveness of the tools that you're using. Here are a few suggestions to get you started.
1. Conduct a "meetings audit"
Yup – meetings are tools! If you must, add this to your next team meeting agenda. Look back over the last week and ahead to the meetings you have coming up. Which meetings are effective in helping you accomplish the work that needs to get done? Which ones are not? Why?
2. Evaluate your video conferencing tools
We're all using video conferencing tools but are you using them to their fullest capabilities?
Most video conferencing apps have added new features in the last 12 months because of increased usage and competition. Take some time to do a quick search on "best new features of [insert your tool here]." Set a timer for 20 minutes and see what you learn, then share your learnings with someone.



Are you on the right plan for your team and company's needs? When was the last time you evaluated what your team needs and what you're paying for?



How confident and competent does your team feel when it comes to using video? Take a bit of time to understand how your team feels about video and why. Video calls can drain some people and energize others. Depending on your team's preferred learning styles, the appearance of where they work, or if they're self-consciousness about how they appear on screen, there can be a few reasons why your team may appreciate permission to be off camera. There could also be setup issues that can be easily fixed.



Ask a colleague about how they're using their video tools and if there have been any learnings they've had over the last year.



Are you using your video tools both synchronously and asynchronously? My world changed when I realized I could hit "record" on my video platform and send a video message and/or pre-record a presentation that informs my team of what I need to share without having to book a meeting or to prepare for a meeting!

If the first 15 minutes of a meeting is going to be you talking to people—record it and send it ahead of time. Your team will thank you for it and will show up more prepared to discuss and provide feedback—if you even still need the meeting, that is.
3. Step back to look at the adoption of your collaboration tools
Remember CDs and DVDs? At some point, most of us made the switch to digital and streaming services and, at the time, it was different, disruptive, and sometimes resulted in new equipment. For those of us who love using whiteboards and sticky notes face-to-face, the virtual versions can seem too different to accomplish the same levels of interaction and collaboration.

Investing time in learning about which collaboration tools are working and where your team still is experiencing barriers is worth a look. Ask colleagues what tools/features they're using and where they're finding the best interaction and value. There are some fantastic courses and resources online that can help you up your game in this area.
4. Look in the mirror
At the risk of calling you a tool (I think I just did), how well have you been leading while working apart from your team? Research has shown that the skills required of distributed leaders are similar to those of leaders working in a face-to-face environment…but they are not sufficient. The stakes of leadership are high and investing in the skills and capabilities connected to success in effective distributed leadership will result in engaged and equipped staff and set you apart from your competition.
There's never a "good time" to pause and evaluate tools, but left undone your tools can actually hinder productivity and ultimately create unnecessary barriers for your team.